Rebel Rabbitt
with Jesse Jordan, Claire Voy Annz, Buster V Giner
Warehouse on Watts | W.O.W.
Ages 21 and Up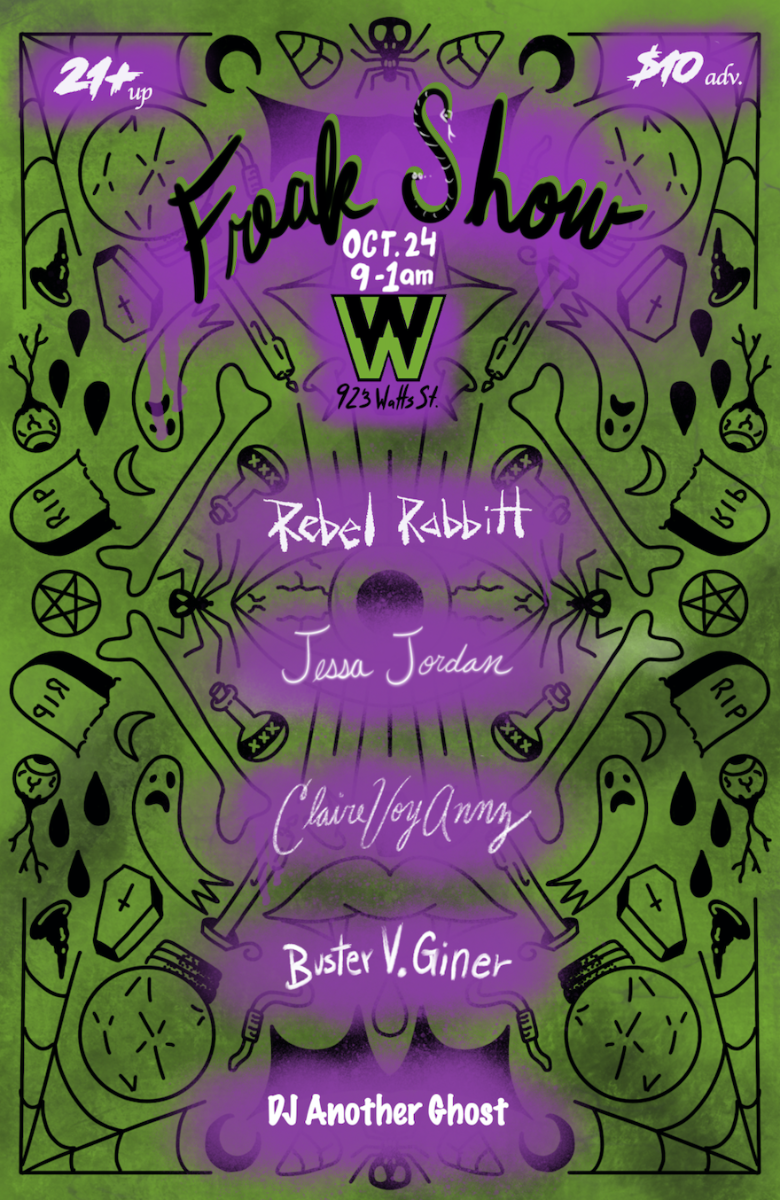 Additional Info
Join us for an evening of creep-tastic dark wave dance vibes by Another Ghost along with sideshow acts by the risqué Rebel Rabbitt, clowning around by pole with the adult performer Jessa Jordan, Drag King Buster V Giner and her conjoined sidekick Rusty, and Claire Voy Annz showcasing her crystal balls! Come dressed in your most dapper of halloween attire and get ready to be dazzled with some good ol' home cooked hallow's debauchery. Your grave-tender will be serving up poisons all night, with spooky snacks available to the masses. And don't forget to hop into a photo booth sesh to show off your ghoulish duds. And Welcome to the Freakshow!
Rebbel Rabbitt: Rebel Rabbitt is the clown bunny babe of Philadelphia. Whether she's hypnotizing you with her hips and hoops, shocking you with sideshow stunts, or teasing and tantalizing till you want to burst, this risqué rabbit is an unforgettable experience! This luscious lapin lurks all across the country with the fear boner inducing clown crew ThunderSnowCone and is excited to be hooping her heart out for you at the freak show.
Jessa Jordan: As an internationally recognized model and adult film performer, Jessa loves doing her own stunts! She traded climbing trees in childhood for poles in adulthood. Catch her clowning around for a special pole performance as she puts the FREAK in this freakshow!
Claire Voy Annz: Claire Voy Annz, the bearded fortuneteller, was brought back from the past to warn us of our futures. Wary not! Her gaze outmatches all others. Standing on a stage or sashaying down a hall, you will not be able to take your eyes off... her crystal balls.
Buster V Giner: Buster V. Giner hits the mark as an old-time Sideshow Barker with his assistant and twin brother Rusty. Together they bring in the crowds with their charm and humor. These two are "inseparable".
Artists
Rebel Rabbitt
Jesse Jordan
Claire Voy Annz
Buster V Giner