DrFameus featuring Allen Aucoin of the Disco Biscuits
with Patrick Richards
Warehouse on Watts | W.O.W.
Ages 21 and Up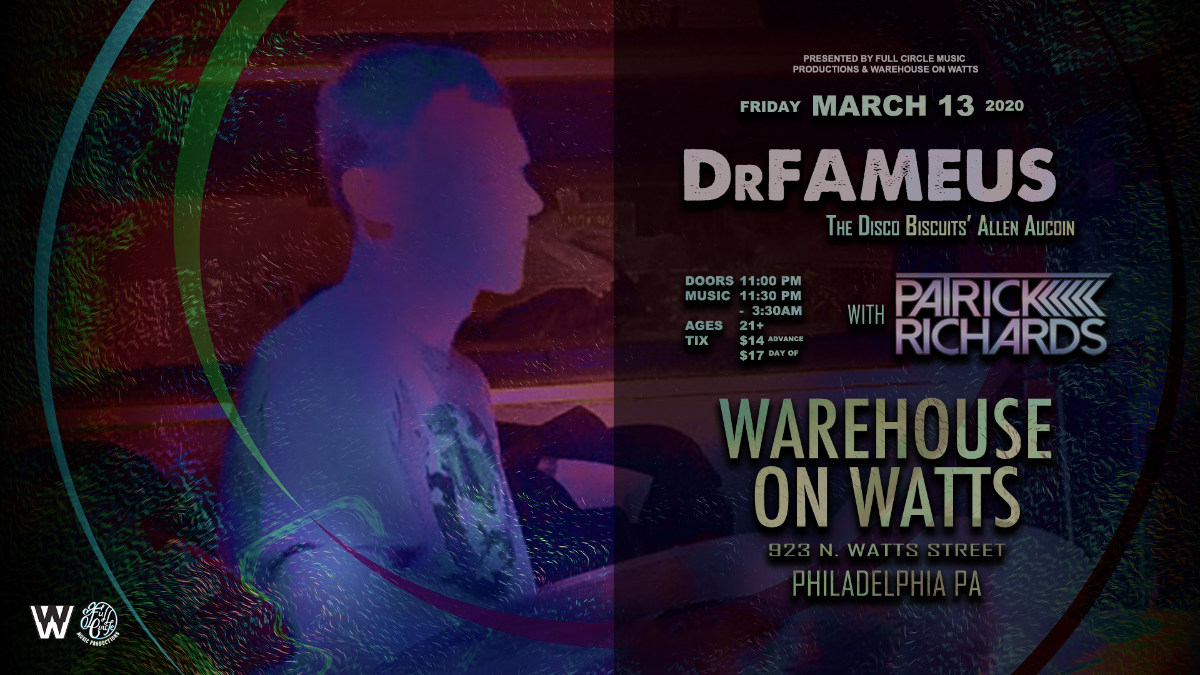 Additional Info
Full Circle Music Productions Presents:

DrFameus ft. The Disco Biscuits' Allen Aucoin
w/ support from Patrick Richards

DrFameus is an electronic music project created by the versatile drummer, Allen Aucoin. DrFameus explores breakbeats, drum 'n' bass, dubstep to techno.

Friday, March 13th
11:30PM-3:30AM
21+

$14 advance tickets
$17 day of

Artists
DrFameus featuring Allen Aucoin of the Disco Biscuits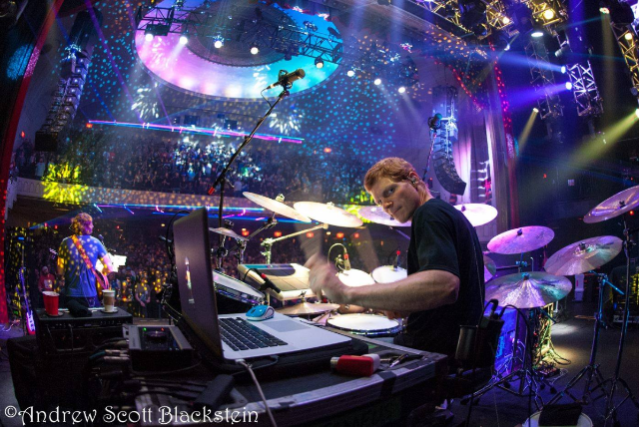 DrFameus is an electronic music project created by the versatile drummer, Allen Aucoin. Allen explores many realms with DrFameus ranging from breakbeats to drum 'n' bass to dubstep to techno/house. It is his ability to survey the crowd and then improvise that has allowed Aucoin to play in such diverse projects over the years.
Allen began his musical career not onstage, but instead in education and composition. This included instructing and writing for award winning percussion ensembles and teaching drum lessons. While attending Berklee College of Music in Boston Massachusetts Allen was given the nickname DrFameus and it has stuck ever since. Like so many of us, college was not exactly a punctual time for Allen. He became known as the guy that was famously late all the time; so much that a friend gave him the honorary doctorate, DrFameus.
After moving back to the southeast from Boston, Allen continued to work as a teacher and percussion instructor while touring with the band "Skydog Gyspy." In 2005 Aucoin acquired his current role as the drummer for Philadelphia electronic act, the Disco Biscuits. Since winning the "drum off" held by the Biscuits in Atlantic City, Allen has played 450-500 shows with the quartet including shows at the Gorge Amphitheatre and Red Rocks Amphitheatre.
Patrick Richards
Patrick Richards will be always at his core a House music Dj, but you can hear him playing minimal techno and bass music in the right setting. At the age of 13 with his first pair of turntables, Patrick explored early club music and gained an eclectic collection of music. He strives not only to entertain, but educate the dancefloor with a combination of new and classic tracks. Becoming one of Philadelphia's premiere Djs, Patrick Richards has supported a plethora of artists and bands across the city.