Jawns and Jams PHLea Fest
with
Warehouse on Watts | W.O.W.
All Ages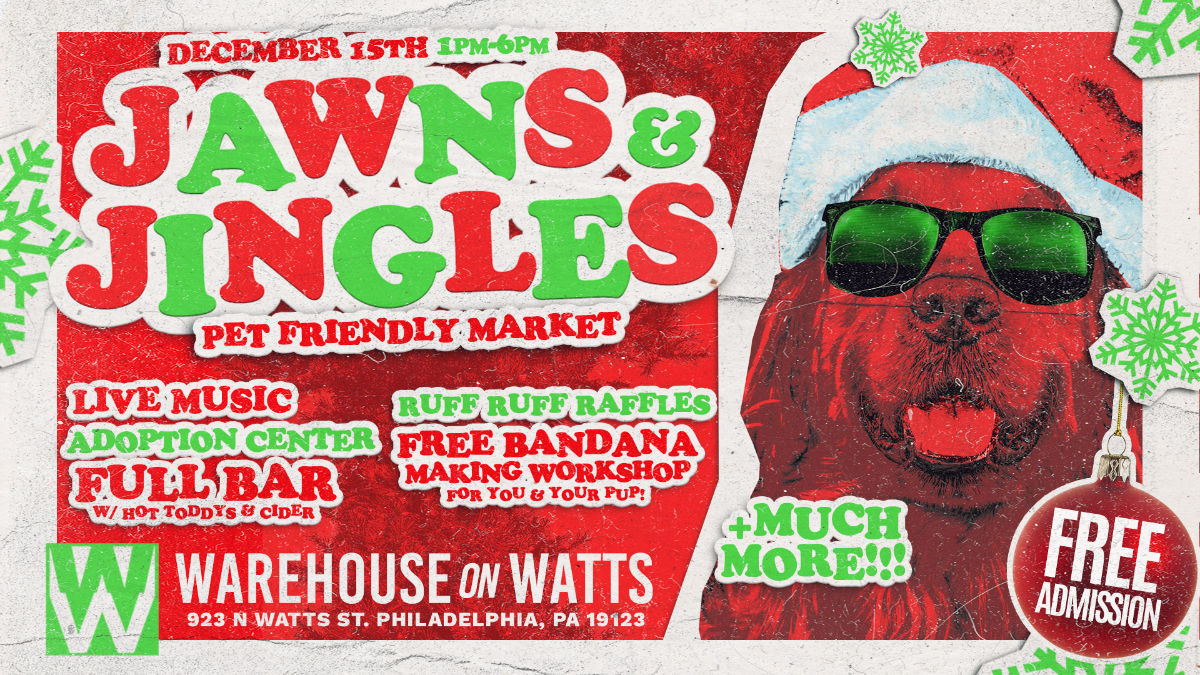 Additional Info
We're back at it again and we're trotting on with another pet friendly edition of Jawns and Jams PHLea Market this winter! Sunday, December 15th from noon until 6pm Warehouse on Watts will be hosting our annual winter market event with lots of fun activities for you and your furry friends.

Some of the super drool activities we're planning for the day:

Jingle Jams! We'll be scheduling a whole day's worth of music to entertain the masses. Musical entertainment will take place on on first floor, reach out if you'd like to sign up to be one of our volunteer 'jinglers'!

Santa Paws! In attendance with a photo booth and treats for all the good boys and girls of Philly. (All creatures welcome including human pets)

Silly Craft Coven Craft Corner! A local craft organization will be offering holiday workshops all day for interested participants. Projects can include:
Smitten Mittens, Orange Pomander Ornaments, Winter Wreaths, and/or Cup Candles. Workshops will cost anywhere from $15-45

Yard Sale Land! A section of new and old donated items to be sold off at yard sale prices. All profits will benefit a local pet initiative. All donations welcome before and during the event. Remaining items will be donated to Philly AIDS Thrift.

Ruff Ruff Raffle! We'll be gathering items from our vendors, pet stores, and other related local businesses to create multiple different baskets for you to win! Reach out directly for any donated items to help spread the joy this season.

FREE x-mas card making table! Come out with your favorite doodling pen or show up empty handed and we'll supply you with everything you need to make up some custom holiday cards for whoever you'd like. We'll also have a mailbox for collecting cards to hand out to local homeless or low income families. You write something nice, and we'll be sure it gets to someone who needs to hear it.

Adoption Center! In conjunction with a local pet rescue we hope to host a selection of animals looking for homes. Last year with the help of our promotional efforts all kittens were adopted out before we even hosted our event. Best case scenario we do that again and will provide a display of all the little paws we were able to rehome with your help of spreading the word about our Cat-Tastic PHLea Fest!
This all ages event will feature our full bar with special hot toddy's for the mature crowd, spiced cider for the fresh faced youths, and pumpkin spice treats for the 4 legged attendees!

Vendors and creatives GALORE: We'll be showcasing vendors of all sorts including artists with on the spot portraits, live painters, makers of general handmade items (not all pet specific), meet and greeters, and other experimental performance creators. No one will be turned away for discrimination, gender identity, and/or lack of experience. All are welcome. A large portion of this event will take place on our second floor which unfortunately is not handicap accessible. We will have a selection of activities on our first floor including the craft workshops, and Live Bands.
You bring the paws, and we'll have the Jawns and Jingles to keep everyone in the holiday spirit!
Artists
Jawns and Jams PHLea Fest